06/05/16
Filed under:
Product Information
Posted by:
Vincent
@ 10:45 am
D'maj Beauty Salon is always in search of innovative, state-of-the-art solutions for our clients. From Milan, Italy comes our latest offering, DeColor B Shimmer. A proprietary blend of products that enables us to offer you, our most valuable client, a quick and easy way to add depth and dimension to any hairstyle. Call the salon at (904) 342-2580 to speak with a stylist.
DECOLOR B SHIMMER
Questions & Answers



1.

Who is the ideal client for a SHIMMER service?

SHIMMER can be used on 100% of clients who have color treated or natural hair.




2.

Is SHIMMER a permanent lightening/highlighting service?


YES! It will stay in just as a regular hair color service does.




3.

Is 5 minutes the processing time?


NO. There is no processing time with SHIMMER past the flat ironing.




4.

Then what is the 5 minute start to finish?


The 5 minutes is the approximate amount of time it takes to perform the

SHIMMER service, which includes up to 4 highlights.




5.

Can SHIMMER be used on both color treated and natural hair?


YES!




6.

How many levels of lift can I expect from SHIMMER?


Up to 2 levels.



7.

Is there a certain level of hair color that SHIMMER works best on?


SHIMMER will work on all levels, adding beautiful dimension and shine. On darker levels, the results will be slightly less noticeable.




8.

Can SHIMMER be used on any haircolor brand?


YES!




9.

Can SHIMMER be applied to bleached or previously highlighted hair?


NO. We do not recommend SHIMMER on previously bleached, highlighted or compromised hair.




10.

Will SHIMMER work on all ethnic hair types (African American, Asian, Spanish, etc.)?


YES! The only limitations are bleached and compromised hair.




11.

Will SHIMMER stay on tone and not go Brassy or expose warmth?


YES! What makes SHIMMER totally revolutionary is that the hair is lifted ON TONE!




12.

Is SHIMMER as permanent as other permanent lightening done with foils or Balayage techniques?


YES!




13.

Can SHIMMER be used on the same day as a Keratin Smoothing Service?


YES! A test strand with SHIMMER will be conducted.




14.

Is SHIMMER recommended for full-head highlights?


YES. You can add as many highlights as you wish using SHIMMER for up to 2 levels of lift. Talk with your stylist about pricing for additional highlights.




15.

Is the steam produced when using SHIMMER with a flat iron hazardous to my health?


NO. The small amount of steam that is produced when flat ironing the hair is non-toxic. It is just water permeated steam.




16.

Can SHIMMER be used on the same day as a permanent wave or thio based relaxer (Silis)?


YES! A test strand will be conducted.




17.

Can SHIMMER be used on hair that was lifted with Haircolor?


YES!




18.

Can SHIMMER be used on hair that has been relaxed with a


Sodium/Calcium based relaxer?

NO.




19.

What is SHIMMER?


SHIMMER is a unique combination of panthenol and powerful cationic conditioning agents that form a thermal protective shield, couples with hydrogen peroxide, scientifically tested and proven to work and protect the hair, lifting up to 2 levels on tone, from the research laboratories of framesi in Milan, Italy.




20.

Can't I just use peroxide?


NO! With a substitute peroxide, you run a high risk of burning the hair and causing irreparable damage. The unique SHIMMER formulation with the synergy of thermal conditioning ingredients results in 5 minute highlights, on tone, leaving the hair with the most beautiful condition and shine. NO other product will give you these results.




21.

Since there is no rinsing after SHIMMER, is there a scent or lingering odor left in the hair after the service?


There is NO scent and NO lingering odor left on the hair after SHIMMER.




22.

What ingredient makes SHIMMER lift on tone without exposing brassiness or warmth?


Italian magic




23.

Is SHIMMER Vegan?


YES. SHIMMER is 100% Vegan




24.

Is SHIMMER Gluten Free?


YES. SHIMMER is gluten free




25.

Is the integrity of the hair safe even though flat ironing on wet hair?


YES! SHIMMER contains a unique combination of panthenol and powerful cationic conditioning agents that form a thermal protective shield on the hair to protect against the flat iron heat.




26.

Will SHIMMER stop processing when the hair is dry, even out in the sunlight?


YES! Once SHIMMER is activated with the flat iron and the hair is dry, SHIMMER is no longer on the hair and the hair will not continue to lighten




27.

Does SHIMMER work like products such as "Sun In Hair Lightener"?


NO! SHIMMER is a proprietary blend of ingredients that allows the hair to quickly lift up to 2 levels on tone, leaving the hair in its natural pH state, with condition and shine. These "sun type" products typically lift the hair off tone, continue to work when exposed to the sun, dry out the hair and leave it in a damaged, bleached like state that cannot accept any additional chemical services.
05/23/16
Filed under:
Product Information
Posted by:
Vincent
@ 11:18 am
Lured by endorsements from celebrities and supermodels, consumers are clamoring for coconut oil, coconut water, coconut milk and coconut-infused cocktails for weight loss, boosting heart health, reducing inflammation associated with arthritis, preventing cardiovascular and neurological diseases, and many other health benefits.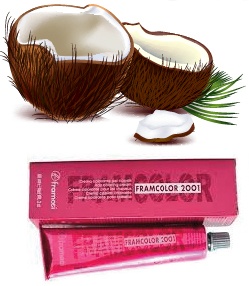 Coconut Oil has also been found to offer amazing benefits for the hair and skin.
Coconut Oil's popularity appears to be the next new trend, but the truth is, coconut oil has been a primary ingredient in framesi color and developers for years. The only cream color that offers the conditioning benefits of coconut oil, framesi color leaves the hair shinier than any other haircolor on the market. Furthermore, because the coconut oil in the framesi color bases leaves the hair strong and undamaged, the color will last longer, and a coconut oil cream base will never build up on the hair and cause problems with future chemical services.
The Journal of Cosmetic Medicine proved back in 2003 what framesi chemists have always known. Coconut Oil offers protective and conditioning benefits that are far superior to those of other vegetable oils used in haircare. This data joined a multitude of findings on the advantages of coconut oil for both body and skin. The reason this tropical oil makes your hair so soft and conditioned is because it can penetrate the hair fiber and minimize protein loss during a chemical service. Not only does protein loss result in damage hair with reduced strength, resilience and shine, but it also affects color durability- the more protein is lost, the faster color will fade.
Furthermore, Coconut oil is one of the best natural nutrients for your hair. It helps in healthy growth of hair and gives your hair a shiny quality. It is highly effective in reducing protein loss from hair's daily wear and tear which can lead to various unattractive or unhealthy qualities in your hair. Its unique composition allows it to penetrate the hair shaft, whereas other vegetable oils are too bulky to penetrate and merely coat the outside of the hair's cuticle and build up. Because of these great benefits, framesi has included Coconut Oil in all the FRAMESI COLOR LOVER cream conditioners.
From Nutrition to Skincare to Haircare, Coconut Oil is the Healthiest Oil on Earth. This natural tropical oil has numerous health benefits, but the real benefit that framesi has recognized for years has been the superior performance of hair color that is formulated using a rich, coconut oil cream base. Now with Framesi COLOR LOVER conditioners, the benefits from Coconut Oil used daily will be immediately seen in healthier haircolor that lasts 95% longer.